When 4th graders Laya and Alexandra learned that a tent encampment beneath a West Baltimore overpass had been removed by the City, the children asked Lower School Assistant Principal Cynthia Barney what would become of the homeless men and women who had lived there. Barney couldn't provide a simple answer (there isn't one), but connected the girls to Adam Schneider, community relations specialist at Healthcare for the Homeless, who responded to that question and 12 others they sent him about homelessness in Baltimore. Such curiosity and enthusiasm are at the heart of Genius Time, a student led learning initiative that engages Lower Schoolers in researching a topic of their choice and then demonstrating their knowledge through a variety of community service projects. With the support of the Lower School, Laya and Alexandra held a "crazy jeans" day on behalf of Healthcare for the Homeless and collected over $400. In a follow-up letter Schneider wrote to Barney: "If we are to have any chance at addressing the problems we face as a community, society, and world, we will need thoughtful and committed young people like, Laya and Alexandra."
The girls' project was but one of many Genius Time efforts the students put forth. Others included researching heart disease and organizing a Lower School Heart Marathon for the Johns Hopkins Pediatric Cardiology Department and researching the worldwide sport of soccer and collecting cleats and shin guards for the nonprofit Soccer without Borders.
Albert Einstein once said: "Curiosity has its own reason for existing." By engaging students in the classroom, Genius Time helps students become leaders of their learning.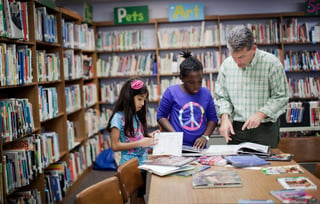 Interested in learning more about student led learning, why engaging students in the classroom is important, or community service in schools ? Enjoy the following articles: Inquiry-Based Learning: From Teacher-Guided to Student-Driven Students Investigate Local Issues Through Service Learning